CASE STUDY: Logo/Brand Design – Event Mode
I use a proven process when developing any design. I am a firm believer that design must be more than a subjective "looks good" but must also work well. In logo or brand design this is highly critical in developing brand awareness. The process goes like this…
Creative Brief
I discuss with the client the type of business, their positioning within the industry and who their target audience would be. It is best to get as specific as possible. Many times the clients will say: "We want to sell to everyone!" That is not ideal and impossible to market to. Having a specific target will help in reaching that target effectively. Who is the ideal of "everyone". Create a persona, a sample of that type of person. The design process will help us to discover how that person reacts to specific colors, design and typography.
When working with an individual, this brief will take place in a conversation, when working with a team I create a written brief so everyone is on board with the intended outcome.
Creative Process
I work with themes. People connect with emotional and intellectual narratives. Normally, I develop three different themes which I find through research and ideation that will connect with that target persona. I present these themes with dialog on how I came up with the themes and how they will connect your company identity with the audience. The three themes are a dialog point on guiding us to a style that you appreciate and represent your company culture best.
Revisions
From the initial theme presentation I usually work within two rounds of revisions to come up with the final design(s) and brand specifications of color call-outs, typography, proper and improper logo usage.
RECENT EXAMPLE: Event Mode
Client Connie Hall called and asked about designing a logo for her new business. She had hired one of those online discount logo designs and was never satisfied with it. A challenge presented itself right away. The client had no idea what she wanted or what she liked. She admitted that she didn't want anything like the logo they had. So we went in blind as far as the style or type of logo.
Creative Brief: Event Mode is an event promotions company that specializes in community building and endurance events such as Triathalons. The target audience is community organizations and corporations for sponsorship. The company focuses on community gathering events that are centered around sports or activities. Lively events which are a whole lot of fun!
Creative Process: We developed the following three themes with corresponding brainstorming notes, digital sketches and description.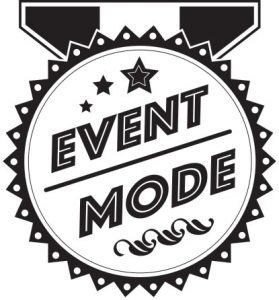 COMPETITION – Event Mode has chosen to focus some of it's market share within the triathalon and competitive sports events. The design elements in this theme center around awards and accolades for all the hard work and dedication of the athletes and their families. We chose to use an award medallion as the main thematic design element.
Brainstorming Notes: Medallions • Trophy • Ribbon • Heats • Ladder • Championship • Sports • Race • Rivalry • Struggle • Tourney • Award • Vertical • Strength • Metal Colors
---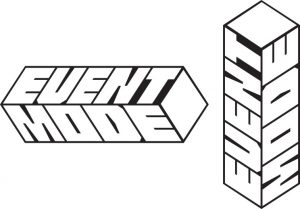 COMMUNITY – Another great aspect of Event Mode is it's ability to create community with their events. From the tagline: "Harness the Power of Community." We created a design that features architectural elements as a symbol of community building. The design also shows that no matter what side you are on, we are all in this together.
Brainstorming Notes: Association • Neighbor • Center • District • Public • Society • Togetherness • Sharing • Affiliation • Alliance • Fraternity • Union • Connections • Earthtones
---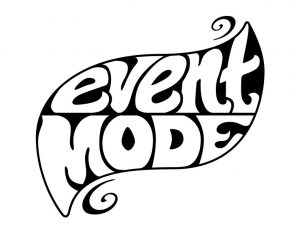 ACTION – Initially themed as "FUN" with further review we focused the active part of play for this design. Constant movement within a flowing shape anchored by a horizontal beltline gives the design continuity.
Brainstorming Notes: Activity • Life • Enjoyment • Attack • Force • Movement • Process • Accomplishment • Play • Bustle • Cheer • Upward Motion • Hustle • Bright Colors
---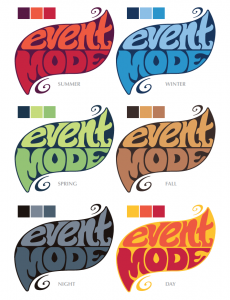 NEXT STEP
The client appreciated the thought process which made it a difficult decision to move forward. There were two styles that she preferred then went with the third theme ACTION. So next we developed color and typographic studies.
Not knowing exactly what the client's preference is, we created 6 different color samples which she chose the Winter, Fall and Night pallets. Not a problem having different color pallets as long as they are used consistently. That's when we presented the final designs with color and typography callouts.
---
We delivered each color in popular formats: .ai, .eps, .pdf, .png and .jpg for the client to use as they like in print and online.
To learn more about Event Mode, take a look at their website: www.EventMode.net