I had the great opportunity to work with Michael Sawitz at Faststart.studio when I was developing Animal Legs, Making Crutches Cool for Kids. In the sessions I learned of the lean start-up program specifically the business model canvas from BusinessModelGeneration.com. A challenging and exciting "road map" to replace the cumbersome business plan. I have since modified the map for my marketing design clients.
Introducing our Strategic Marketing Map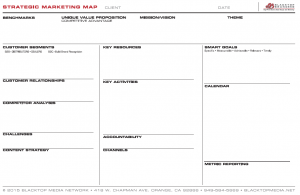 At Blacktop Media we have had great success with this model and it is our goal to help all our clients; past, current and future to succeed. We'd like to share this map for free, simply email us at Campaigns@BlacktopMedia.net and request yours.
We appreciate the opportunity to contribute to your success!