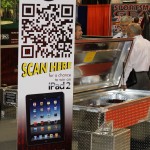 We just returned from the SEMA Show. Whew! In July we published the article: "QR Codes – There's Gold in Them Thar Pixels". Since then there have been lots of feedback on the article all the way up to the beginning of the show. I am proud to say that QR codes were a plenty at SEMA. Some companies used QR codes as a scavenger hunt of sorts. Others used several in their booth for detailed product information.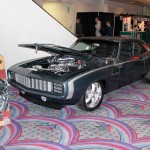 Another source of pride at the show was our client The 401k Club Hot Rod Shop's 1969 Camaro entry. The vehicle was invited to be at the show and from all accounts it would have been placed out-side in the front parking lot. Neigh. The organizers at SEMA asked them to park it in the main hallway between the central and north halls! And, during the first day they moved it further up the hall. Great exposure for Tan Nguyen's car built with exquisite detail by the boys at The 401k Club Hot Rod Shop.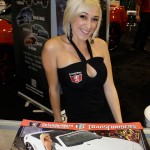 Another client, DefenderWorx, had great exposure at the show. Situated at an end-cap in the North Hall, this was their first showing at the SEMA Show. Their booth featured a red 2011 Camaro and a red 2011 Mustang each decked out with shiney DefenderWorx accessories. Nikki was there all four days signing posters we designed for their fans. It was nice to see the packaging, banners, and catalogs we have designed for them this year.
An overwhelming and sensory overload from the event leaves us at the studio with a lengthy to-do list and many follow-up items. Watch for more from the show at our enthusiast website: www.BlacktopMagazine.com.